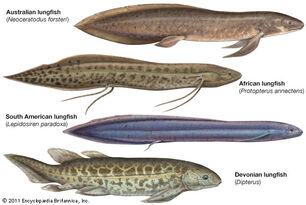 The complete classification of all organisms in the class
Sarcopterygii
.
Subclass Actinistia (Coelacanths)

Order Coelacanthiformes (Modern And Most Recent Coelacanths)

Family Latimeriidae

West Indian Ocean Coelacanth, Latimera chalumnae
Indonesian Coelacanth, Latimera menadoensis

Subclass Dipnoi (Lungfishes)

Order Ceratodontiformes (Australian Lungfishes)

Family Ceratodontidae (Australian Lungfish)

Queensland Lungfish, Neoceratodus forsteri

Order Lepidosireniformes (South American And African Lungfishes)

Family Lepidosirenidae (South American Lungfish)

South American Lungfish, Lepidosiren paradoxa

Family Protopteridae (African Lungfish)

Marbled Lungfish, Protopterus aethiopicus
Gilled African Lungfish, Protopterus amphibius
West African Lungfish, Protopterus annectens
Spotted African Lungfish, Protopterus dolloi
Ad blocker interference detected!
Wikia is a free-to-use site that makes money from advertising. We have a modified experience for viewers using ad blockers

Wikia is not accessible if you've made further modifications. Remove the custom ad blocker rule(s) and the page will load as expected.