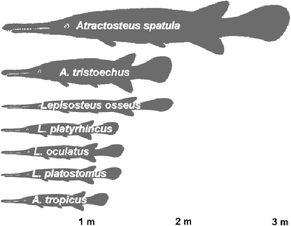 The complete classification of all organisms in the order Lepisosteiformes.
Family Lepisosteidae

Genus Lepisosteus

Longnose Gar, Lepisosteus osseus
Shortnose Gar, Lepisosteus platostomus
Florida Gar, Lepisosteus platyrhincus
Spotted Gar, Lepisosteus oculatus

Genus Atractosteus

Cuban Gar, Atractoseus tristoechus
Alligator Gar, Atractoseus spatula
Tropical Gar, Atractoseus tropicus
Ad blocker interference detected!
Wikia is a free-to-use site that makes money from advertising. We have a modified experience for viewers using ad blockers

Wikia is not accessible if you've made further modifications. Remove the custom ad blocker rule(s) and the page will load as expected.