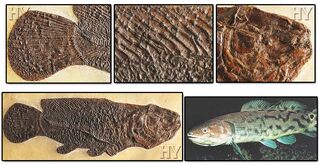 The complete classification of all organisms in the order Amiiformes.
Family Amiidae

Subfamily Amiinae

Genus Amia

Amia lewesiensis
Amia depressa
Amia newberriana
Amia elegans
Amia exilis
Amia gracilis
Amia media
Amia uintaensis
Amia dictyocephala
Amia scutata
Amia macrospondyla
Amia selwyniana
Amia whiteavesiana
Amia morini
Amia fragosa
Amia pattersoni
Amia godai
"Amia" hesperia?

Genus Cyclurus

Cyclurus ignotus
Cyclurus macrocephalus
Cyclurus valenciennesi
Cyclurus olicocenicus
Cyclurus kehreri
Cyclurus fragosus
Cyclurus gurleyi
Cyclurus efremovi

Genus Pseudoamiatus

Subfamily Amiopsinae

Genus Amiopsis

Amiopsis lepidota
Amiopsis damoni
Amiopsis prisca
Amiopsis woodwardi
Amiopsis dolloi

Subfamily Solnhofenamiinae
Subfamily Vidalamiinae

Genus Calamopleurus

Calamopleurus cylindricus
Calamopleurus mawsoni
Calamopleurus africanus

Genus Maliamia
Genus Melvius

Melvius thomasi
Melvius chauliodous

Genus Pachyamia

Pachyamia latimaxillaris
Pachyamia mexicana

Genus Vidalamia

Subfamily ???